This test reading campaign is now closed, either because the maximum participation number has already been reached or because the end date for this campaign has passed.
Join our mailing list, so you receive alerts when there are new test reading campaigns where you can receive free ebooks and ARCs in exchange for your reading data.
Please visit our campaigns page to find out about other active campaigns.
Jellybooks is always looking for readers interested in test reading some great books. This is how it works when you join a test reading campaign:
Make your choice from the list of ebooks available (see below)
Complete the registration process by providing a few details
Download the ebook(s) to the device of your choice
The books in this test reading project are provided in the ePub 3 format and can be read only with selected reading apps:
Apple Books by Apple for iPhone, iPad or Mac OSX
Lis-a by ABM for Android phones and tablets
or one of the other supported reading apps for PC, tablet or phone
Instead of one of the reading applications mentioned above, you can also use the Jellybooks Cloud Reader without installing any app. The Jellybooks Cloud Reader can be used on any device with browser support. Simply click the green "Read with Cloud Reader" button instead of the blue "Download Epub" button. After registration, the link can also be found in the "My Books" section.
Click the "Sync Reading Stream" button at the end of each chapter to send your reading data to Jellybooks, and please complete the one-page survey at the end of the book.
The ebooks that were tested as part of this reading campaign were: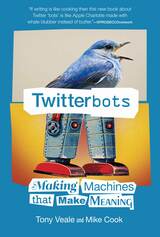 Twitterbots
"Twitter offers a unique medium for creativity and curiosity for humans and machines. The tweets of Twitterbots, autonomous software systems that send messages of their own composition into the Twittersphere, mingle with the tweets of human creators; the next person to follow you on Twitter or to "like" your tweets may not a person at all. The next generator of content that you follow on Twitter may also be a bot. This book examines the world of Twitterbots, from botdom's greatest hits to the hows and whys of bot-building to the place of bots in the social media landscape.
In Twitterbots, Tony Veale and Mike Cook examine not only the technical challenges of bending the affordances of Twitter to the implementation of your own Twitterbots but also the greater knowledge-engineering challenge of building bots that can craft witty, provocative, and concise outputs of their own. Veale and Cook offer a guided tour of some of Twitter's most notable bots, from the deadpan @big_ben_clock, which tweets a series of BONGs every hour to mark the time, to the delightful  @pentametron, which finds and pairs tweets that can be read in iambic pentameter, to the disaster of Microsoft's @TayAndYou (which "learned" conspiracy theories, racism, and extreme politics from other tweets). They explain how to navigate Twitter's software interfaces to program your own Twitterbots in Java, keeping the technical details to a minimum and focusing on the creative implications of bots and their generative worlds. Every Twitterbot, they argue, is a thought experiment given digital form; each embodies a hypothesis about the nature of meaning making and creativity that encourages its followers to become willing test subjects and eager consumers of automated creation."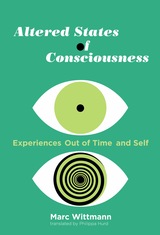 Altered States of Consciousness
"During extraordinary moments of consciousness—shock, meditative states and sudden mystical revelations, out-of-body experiences, or drug intoxication—our senses of time and self are altered; we may even feel time and self dissolving. These experiences have long been ignored by mainstream science, or considered crazy fantasies. Recent research, however, has located the neural underpinnings of these altered states of mind. In this book, neuropsychologist Marc Wittmann shows how experiences that disturb or widen our everyday understanding of the self can help solve the mystery of consciousness.
Wittmann explains that the relationship between consciousness of time and consciousness of self is close; in extreme circumstances, the experiences of space and self intensify and weaken together. He considers the emergence of the self in waking life and dreams; how our sense of time is distorted by extreme situations ranging from terror to mystical enlightenment; the experience of the moment; and the loss of time and self in such disorders as depression, schizophrenia, and epilepsy. Dostoyevsky reported godly bliss during epileptic seizures; neurologists are now investigating the phenomenon of the epileptic aura. Wittmann describes new studies of psychedelics that show how the brain builds consciousness of self and time, and discusses pilot programs that use hallucinogens to treat severe depression, anxiety, and addiction.
If we want to understand our consciousness, our subjectivity, Wittmann argues, we must not be afraid to break new ground. Studying altered states of consciousness leads us directly to the heart of the matter: time and self, the foundations of consciousness."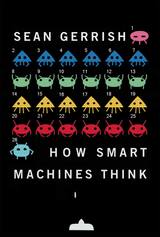 How Smart Machines Think
"The future is here: Self-driving cars are on the streets, an algorithm gives you movie and TV recommendations, IBM's Watson triumphed on Jeopardy over puny human brains, computer programs can be trained to play Atari games. But how do all these things work? In this book, Sean Gerrish offers an engaging and accessible overview of the breakthroughs in artificial intelligence and machine learning that have made today's machines so smart.
Gerrish outlines some of the key ideas that enable intelligent machines to perceive and interact with the world. He describes the software architecture that allows self-driving cars to stay on the road and to navigate crowded urban environments; the million-dollar Netflix competition for a better recommendation engine (which had an unexpected ending); and how programmers trained computers to perform certain behaviors by offering them treats, as if they were training a dog. He explains how artificial neural networks enable computers to perceive the world—and to play Atari video games better than humans. He explains Watson's famous victory on Jeopardy, and he looks at how computers play games, describing AlphaGo and Deep Blue, which beat reigning world champions at the strategy games of Go and chess. Computers have not yet mastered everything, however; Gerrish outlines the difficulties in creating intelligent agents that can successfully play video games like StarCraft that have evaded solution—at least for now.
Gerrish weaves the stories behind these breakthroughs into the narrative, introducing readers to many of the researchers involved, and keeping technical details to a minimum. Science and technology buffs will find this book an essential guide to a future in which machines can outsmart people."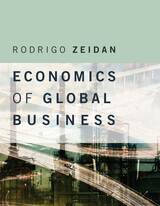 Economics of Global Business
"This timely and refreshingly real-world focused textbook examines some of the world's most critical policy issues through a macroeconomics lens.  After presenting analytical foundations, modeling tools, and theoretical perspectives, Economics of Global Business goes a step further than most other texts, with a practical look at the local and multinational tradeoffs facing economic policymakers in more than fifty countries. Topics range from income equality and the financial crisis to GDP, inflation and unemployment, and, notably, one of the first macroeconomics examinations of climate change. Written by a globetrotting economist who teaches and consults on three continents, Economics of Global Business aims not for definitive answers but rather to provide a better understanding of the context-dependent rationales, constraints, and consequences of economic policy decisions. 
The book covers long-run and short-run growth (with examples from the United States, China, European Union, South Korea, Japan, Latin America, Africa, Australia, South Korea, and Vietnam); financial crises and central banks; monetary and fiscal policies; government budgets; currency regimes; climate change and macroeconomics; income inequality; and globalization. All chapters rely on recent and historical examples of economic policy in action. The book is particularly suitable for use as an introduction to macroeconomics for business students."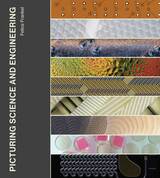 Picturing Science and Engineering
"One of the most powerful ways for scientists to document and communicate their work is through photography. Unfortunately, most scientists have little or no training in that craft. In this book, celebrated science photographer Felice Frankel offers a guide for creating science images that are both accurate and visually stunning. Picturing Science and Engineering provides detailed instructions for making science photographs using the DSLR camera, the flatbed scanner, and the phone camera. The book includes a series of step-by-step case studies, describing how final images were designed for cover submissions and other kinds of visualizations. Lavishly illustrated in color throughout, the book encourages the reader to learn by doing, following Frankel as she recreates the stages of discovery that lead to a good science visual.
 
Frankel shows readers how to present their work with graphics—how to tell a visual story—and considers issues of image adjustment and enhancement. She describes how developing the right visual to express a concept not only helps make science accessible to nonspecialists, but also informs the science itself, helping scientists clarify their thinking. Within the book are specific URLs where readers can view Frankel's online tutorials—visual "punctuations" of this printed edition. Additional materials, including tutorials and videos, can be found online at the book's website.
Published with the help of funding from Furthermore: a program of the J. M. Kaplan fund"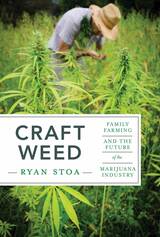 Craft Weed
What will the marijuana industry look like as legalization spreads? Will corporations sweep in and create Big Marijuana, flooding the market with mass-produced weed? Or will marijuana agriculture stay true to its roots in family farming, and reflect a sustainable, local, and artisanal ethic? In Craft Weed, Ryan Stoa argues that the future of the marijuana industry should be powered by small farms—that its model should be more craft beer than Anheuser-Busch.
To make his case for craft weed, Stoa interviews veteran and novice marijuana growers, politicians, activists, and investors. He provides a history of marijuana farming and its post-hippie resurgence in the United States. He reports on the amazing adaptability of the cannabis plant and its genetic gifts, the legalization movement, regulatory efforts, the tradeoffs of indoor versus outdoor farms, and the environmental impacts of marijuana agriculture. To protect and promote small farmers and their communities, Stoa proposes a Marijuana Appellation system, modeled after the wine industry, which would provide a certified designation of origin to local crops. A sustainable, local, and artisanal farming model is not an inevitable future for the marijuana industry, but Craft Weed makes clear that marijuana legalization has the potential to revitalize rural communities and the American family farm.
As the era of marijuana prohibition comes to an end, now is the time to think about what kind of marijuana industry and marijuana agriculture we want. Craft Weed will help us plan for a future that is almost here.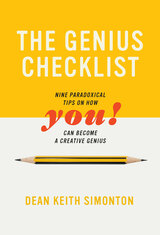 The Genius Checklist
"What does it take to be a genius? A high score on an IQ test? Brilliant physicist Richard Feynman's IQ was too low for membership in Mensa. Suffering from varying degrees of mental illness? Creativity is often considered a marker of mental health. Be a child prodigy like Mozart, or a later bloomer like Beethoven? Die tragically young, like Keats, or live to a ripe old age like Goethe? In The Genius Checklist, Dean Keith Simonton examines the key factors in creative genius and finds that they are more than a little contradictory.
Simonton, who has studied creativity and genius for more than four decades, draws on both scientific research and stories from the lives of famous creative geniuses that range from Isaac Newton to Vincent van Gogh to Virginia Woolf. He explains the origin of IQ tests and the art of estimating the IQ of long-dead historical figures (John Stuart Mill: 200; Charles Darwin: 160). He compares IQ scores with achieved eminence as measures of genius, and he draws a distinction between artistic and scientific genius. He rules out birth order as a determining factor (in the James family alone, three geniuses at three different birth-order positions: William James, firstborn; Henry James, second born; Alice James, born fifth and last); considers Malcolm Gladwell's 10,000 Hour Rule; and describes how the "lone" genius gets enmeshed in social networks.
Genius, Simonton explains, operates in ways so subtle that they seem contradictory. Genius is born and made, the domain of child prodigies and their elders. Simonton's checklist gives us a new, integrative way to understand geniuses—and perhaps even to nurture your own genius!"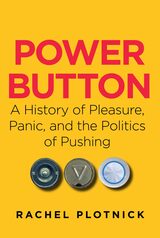 Power Button
"Push a button and turn on the television; tap a button and get a ride; click a button and "like" something. The touch of a finger can set an appliance, a car, or system in motion, even if the user doesn't understand the underlying mechanisms or algorithms. How did buttons become so ubiquitous? Why do people love them, loathe them, and fear them? In Power Button, Rachel Plotnick traces the origins of today's push-button society by examining how buttons have been made, distributed, used, rejected, and refashioned throughout history. Focusing on the period between 1880 and 1925, when "technologies of the hand" proliferated (including typewriters, telegraphs, and fingerprinting), Plotnick describes the ways that button pushing became a means for digital command, which promised effortless, discreet, and fool-proof control. Emphasizing the doubly digital nature of button pushing—as an act of the finger and a binary activity (on/off, up/down)—Plotnick suggests that the tenets of precomputational digital command anticipate contemporary ideas of computer users.
Plotnick discusses the uses of early push buttons to call servants, and the growing tensions between those who work with their hands and those who command with their fingers; automation as "automagic," enabling command at a distance; instant gratification, and the victory of light over darkness; and early twentieth-century imaginings of a future push-button culture. Push buttons, Plotnick tells us, have demonstrated remarkable staying power, despite efforts to cast button pushers as lazy, privileged, and even dangerous."
Important information
Please note that our eBooks are protected with watermarking technology in addition to our own tracking technology and should not be shared or posted to torrent or sharing sites of any kind (the file can be traced to its original owner).
The Sponsor for this test reading project is MIT Press.
Some of the ebooks being provided may have been from uncorrected proofs, not final pages ("advance reading copies"). You may see typographical or grammatical errors that will be corrected in the finished book.
The purpose of this project is to allow Jellybooks Ltd and the Sponsor, to collect and analyze data relating to your interaction with the eBook.
The full Jellybooks Privacy Policy can be found here: https://www.jellybooks.com/about/legal/privacy and further specific details about how your data will be used during this particular campaign are set out below:
What data will be collected about me during this campaign?
Jellybooks will be collecting certain elements of your personal data, such as your name, email address, gender and age as well as information about your reading behavior and your feedback on the ebooks.
Who will my data be shared with?
Jellybooks will assign you a unique identity number and will share this identity number as well as your reading data with the Sponsor. No information which can identify you personally will be shared with Sponsor. Other than this, your data will not be shared by Jellybooks with any other third parties.
How will my data be used?
The data you send us will be used to help Jellybooks and the Sponsor to better understand the ebook's audience, as well as to help improve future content.
The full Privacy Policy for the project's Sponsor can be found here: https://mitpress.mit.edu/privacy.
With that in mind, YOU AGREE AND ACKNOWLEDGE that by clicking the "Sync Reading Stream" button the data collected in your reading device or reading application, through your interaction with the eBook, will be sent to Jellybooks, which will analyze the information for the purpose of this project and share it with the Sponsor as described above. If you do not wish your data to be collected and shared in this way, please do not take part in this project.